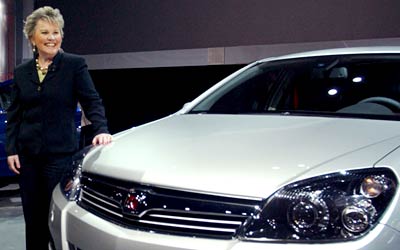 During the Astra unveiling, Saturn General Manager Jill Lajdziak said, "At Saturn, we have never taken our eye off the ball when it comes to safety."
She was referring to the Astra's roster of safety systems, including stability control, ABS, six air bags, and active head restraints.
However, has Saturn always been on the ball when it comes to safety?
Looking at Consumer Reports data, current Saturn models we have tested post Good to Very Good results in our accident avoidance test. Though, looking at our aggregated crash test data, there are some red flags.
The Saturn Ion is
rated only Acceptable
in the frontal offset crash test by the Insurance Institute for Highway Safety (IIHS). When tested with front and rear head curtain air bags, the Ion received the same rating as without: Poor.
The 2002-2007 Vue faired better in the front test, earning the
highest rating of Good
. However, in the only side test performed by the IIHS, without side air bags, the Vue was rated Poor.
In the Institute's words: "Measures taken from the [driver] dummy indicate that rib fractures would be likely in a crash of this severity. Serious neck injuries as well as a fracture of the pelvis would also be possible. In addition, loading to the shoulder was excessive." Ouch.
The Vue also tipped-up in the government rollover test.
The Relay minivan
scored a Good
in the front test. No surprise, really, as the enlarged front end added to the basic GM minivan design for the latest, and last, generation was in direct response to crash test performance. Three separate side tests were conducted by IIHS, representing changing air bag configurations. The results range from Poor to Acceptable.
The newer Aura, Outlook, and Sky have not yet been tested.
We're not sure where Saturn's celestial eye has been focused, but the results speak for themselves. And the message is: don't believe the hype and research cars on your own. Especially when it comes to safety, trust the data, not the hyperbole.