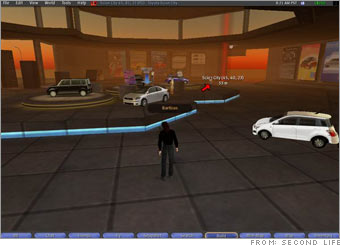 For Chicago, Scion is taking the "virtual" show experience concept a step further, into the metaverse. Scion will introduce the second-generation xB and the all-new xD on Thursday, Feb. 8th, to the attending media and remotely, through Second Life, a three-dimensional online world with almost three million registered users.
The first 500 Second Life members who register for this media-only event will be able to participate in the virtual press conference. Scion enthusiasts will be able to view footage from the event on the scion.com site the following day.
Scion is among the first automakers to use the rapidly expanding Second Life realm as a marketing tool, with its own island, called Scion City. Scion has sold over 500 virtual vehicles in SL sincethe launch of Scion City last November. Cost for an xA, xB, or tC is 300 Lindens, the virtual currency. Translation: about $1.20 in the real world, depending on the current exchange rate.
The youth-targeted brand has succeeded by generating buzz through this effort, and numerous other marketing endeavors. However, this seems like a near-miss opportunity to reach Scion enthusiasts, rather than what may be a small number of media who would actually use Second Life to view the press conference.
We have driven cars in Second Life, and, of course, they do not compare to real cars, or even those in console-based video games. However, the online interaction can provide some insights, and the automakers realize that the experience will generate interest and potentially affinity.
Ultimately, we know that the auto show insights you expect, and deserve, require us to see, touch, and experience the vehicles themselves. As the parody site getafirstlife.com conveys, there is nothing better than the real thing.
Posted by Jeff Bartlett, Consumer Reports
4:04 PM
0 Comments

|
Add a Comment