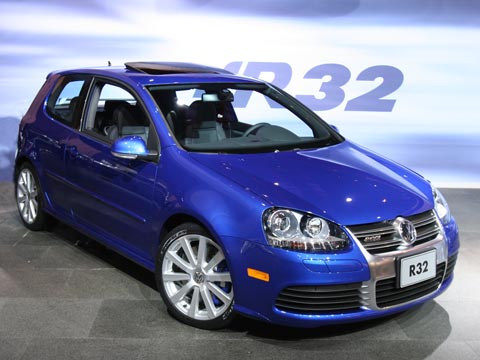 While everyone else was busy paying attention to Ford's renamed 2008 Five Hundred (a car so good they unveiled it twice!) and Toyota's brand-new Highlander, Volkswagen quietly unveiled its 2008 R32. VW's Golf GTI-based, all-wheel-drive hatchback features a 3.2-liter, naturally aspirated, narrow-angle V-6, a standard twin-clutch (DSG) transmission, and more than a few subtle exterior changes.
The R32's power - 250 hp and 236 lb-ft of torque - comes from a version of Volkswagen's famed 15-degree VR6 engine. All that grunt is transferred to the pavement through a modified form of VW's 4Motion all-wheel drive. The best part? At least 75 percent of the VR6's available torque is sent to the back wheels at all times, ensuring both lurid throttle-induced drift possibilities and rear-wheel-drive dynamics.
Although a standard manual transmission isn't offered (and we'll bemoan that fact until the day we die), VW's six-speed DSG box should do an admirable job. Based on our experience with DSG-equipped "ordinary" GTIs, we can say without reservation that Volkswagen's twin-clutch `box is the best two-pedal transmission we've ever seen. Its near-seamless gear change technology allows the R32 to hit 60 mph in just 6.4 seconds.
A whole host of different styling and accessory touches come standard on the R32 as well. A brushed aluminum grille surround, new front and rear bumpers, twin chrome exhausts, R32-specific 18-inch alloys, and unique door handles and mirrors complete the package. Both track and ride height have been altered (wider and lower, respectively), giving the R32 a meaner stance than the standard GTI.
While we love the R32 in concept, we're not exactly sure what to make of it. Volkswagen's 3.6-liter "new-generation" V-6, as fitted to the rest of its current lineup, wouldn't fit in the current GTI's engine bay, and so power changes little from the last-generation (2004) R32. (Incidentally, that car shared the new R32's engine.) Weight increases, and while the rear-biased torque split is a welcome change - giving the R32 more of a rearward torque split than Audi's famed RS4 - we wonder whether the new R32 will be as entertaining to drive as the last one.
In other news, Volkswagen also announced a return to factory-sponsored road racing in North America. Beginning in 2008, VW will offer a healthy contingency program for SCCA club racing on both a regional and national level; cash awards will be handed out based on victory counts, and some level of factory support will reportedly be available in this country. A production-based spec series known as the GTI Cup and featuring identically prepared GTIs was also announced; the series will utilize near-stock production cars, provide an entry-level, low-cost way to get into professional motorsports, and be fully sanctioned by the SCCA. (VW GTI Cup races will be held as support races during SPEED GT events.)
Posted by Samuel Smith, Automobile
10:11 AM
0 Comments

|
Add a Comment