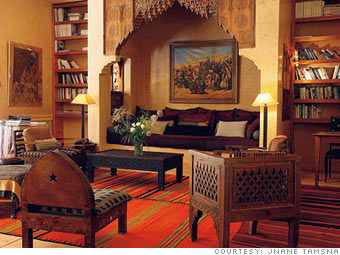 Rock the Casbah Marrakesh's Jnane Tamsna has the feel of a private villa for a fraction of the price.
Exchange for $1 U.S.:
7.9 Moroccan dirham
The very name Marrakesh brings to mind vibrant images of casbahs and camels, palms and palaces, souks and spices. No wonder the so-called Red City, sprawled at the base of Morocco's snowcapped Atlas Mountains, is a magnet for those seeking the exotic. With the dollar up 9% against the dirham since mid-July, the souk will be full of deals (we recommend the Berber blankets).
Where to stay:
In the leafy Palmeraie district just outside the city, you'll discover the oasis of calm that is Jnane Tamsna, a 24-room guesthouse created seven years ago by Meryanne Loum-Martin and her husband, Gary, an American ethnobotanist.
Though A-list celebs and royalty come to relax behind the high walls of the secluded 9-acre property, rooms that approximate a private villa experience can be had for $400 per night.
Those traveling with little ones will find plenty to keep kids happy too, from camel rides to tennis lessons and acrobat parties.
There are no phones, TVs, or minibars in the rooms, and many choose to dine communally on the fresh-from-the-garden fare. Says Meryanne, "It's more like a house party than a hotel."
Jet set wisdom:
Renée Behnke, co-owner of Sur La Table, has been staying at Jnane Tamsna for more than a decade.
Eat:
"My favorite spot is called Al Fassia, in the new town."
Play:
"Put yourself in Meryanne's hands. On one visit she arranged a camel trek into the mountains, where the best chefs in Marrakesh had prepared a sumptuous surprise picnic."
Shop:
"Visit the spice market for a few ounces of this or that to take home. My favorite thing to buy at the souk are lanterns for the garden."
NEXT: Botswana
Last updated October 23 2008: 8:04 AM ET
Email
|
Print
|

Digg this story
|
RSS