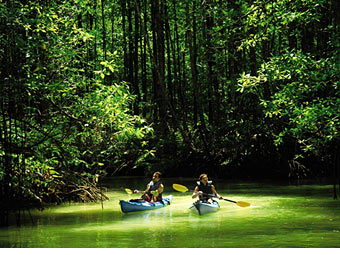 Seeing green Playa Nicuesa is accessible only by boat.
Exchange for $1 U.S.:
561 Costa Rican colon
Which Central American country ranks fifth on the world's Environmental Performance Index and boasts the greatest diversity of species in the world? If you answered Costa Rica, you've probably already been there. Since the currency is pegged to the dollar, now is an ideal time to go back, or visit for the first time.
Where to stay:
Hidden away in the tropical rain forest surrounding the Golfo Duce on Costa Rica's Pacific coast is the Playa Nicuesa Rainforest Lodge (playa-nicuesa.com).
Guests fly in from San Jose to one of two small airstrips on the gulf, where they are met and taken on a 20-minute boat ride to the lodge, which is accessible only by sea. Accommodation comes in the form of six-, one-, or two-bedroom cabins with private wraparound verandas set back in the trees or the four-bedroom mango guesthouse, great for a family or group.
The two-story main lodge is a veritable tree house that soars into the forest canopy with an airy, open design that brings the outdoors inside. A candlelit bar serves sundowners while the restaurant is witness to a steady procession of tropico-latino meals (three a day are included in the $200/per person, night rate).
At the lodge's front door is the luminous Golfo Duce, with its black-sand beaches and fish-filled waters. The backyard is the lush splendor of the forest, where a resident naturalist will introduce you to its secrets. Or you can join an expedition led by the head chef to forage for jungle edibles (try those sweet maggots!).
You can hike, kayak, deep-sea fish, whale-watch, snorkel, windsurf, and ride. Or you can stay at the lodge and relax with yoga or a massage. Best of all, the 100%-solar-powered lodge is about as green as you can get.
Jet set widsom:
Charles Field-Marsham runs Kestrel Capital in Canada. He and his Kenyan-born wife Rita visited Playa Nicuesa with their family last year.
Eat:
"We were served sashimi made with tuna we caught in the Golfo Duce, but you don't have to catch your own to eat well at the lodge."
See:
"One adventure saw us walking up a river, climbing waterfalls with the help of ropes, and swimming in the pools at the bottom. For kids we recommend a visit to the primate sanctuary - fun as well as educational."
Play:
"Don't go if you're squeamish about snakes and reptiles or if you need to go shopping. There's sea, sand and sun, but it's probably not for the out-and-out hedonist."
NEXT
Last updated October 23 2008: 8:04 AM ET
Email
|
Print
|

Digg this story
|
RSS