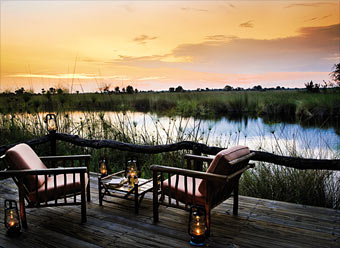 Animal planet Cocktail hour on the Okavango.
Exchange for $1 U.S.:
6.9 pula
Once Africa's best-kept secret, the Okavango River delta in Botswana has become a top safari destination, and for good reason: As the waters of the Okavango meander gently through the vast inland delta, they nourish and support an unmatched variety of vegetation and wildlife.
Here, within a labyrinth of lily-covered lagoons and islands interspersed with grassy floodplains, you can find the Big Five - lion, leopard, elephant, water buffalo, and rhino - and also the "usual suspects": herds of zebra, wildebeest, and antelope.
As a bonus, the dollar is up 8% in 2008 against the pula.
Where to stay:
Stretch your dollar by scheduling your safari through an outfit called Journey Beyond (journey-beyond.com) and visiting between November and April. The "wet" season is not as wet as it sounds, and prices are a third of what they are during high season.
For an all-inclusive $350 per day you'll hop between luxurious lodges and tented camps, experience game drives, mokoro rides (the delta's answer to the Venetian gondola), and copious food and drink.
End each evening by stargazing, then retire to the sounds of the bush. Bookend your safari with a visit to mighty Victoria Falls in neighboring Zambia and a farewell stop in Cape Town.
Jet set wisdom:
Harry Schwab, a former KFC executive and South Africa native, goes on safari once a year.
Stay:
"On the way to the Okavango, stay a night or two at the Impalila Island Lodge, where the Chobe and Zambezi rivers meet. At Kwando Kwara camp, in the northern part of the Delta, you can sleep in the same tent used by Ernest Hemingway."
Play:
"If you like fishing, try catching tiger fish in the delta or on the Chobe River. They are second cousins to the piranha and a great game fish."
NEXT: Bali
Last updated October 23 2008: 8:04 AM ET
Email
|
Print
|

Digg this story
|
RSS