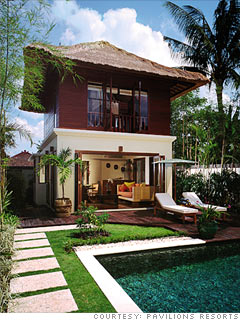 Bali High A poolside villa at the Bali Pavilions hotel.
Exchange for $1 U.S.:
9,328 Indonesian rupiah
Getting to Bali isn't cheap, but once you're there it's summertime year-round, and the living is easy.
Though it may feel as if you're handing over wads of cash for a beer, with nearly 10,000 rupiah to the dollar, you'll barely lighten your wallet (indeed the rupiah has barely budged against the greenback in recent years).
The Balinese are influenced by the concept of "tri hita karana," which calls for harmony and balance in all things physical and spiritual. It shows in the way they behave toward one another and toward their guests, so a visit to Bali is always an enriching and uplifting experience.
Where to stay:
Bali Pavilions (balipavilions.com) is a small, stylish hotel in Sanur, one of the more peaceful neighborhoods in southern Bali, and one that retains much of the island's character.
There are just 23 rooms, ranging from single-bedroom garden villas ($165/night including tax) to two-bedroom pool villas ($371), all set in a walled garden to encourage spiritual harmony.
For physical harmony there's a gym and spa and long walks on the white-sand beach just yards away from the hotel. Plus, you're 45 minutes from the island's cultural capital of Ubud and near the legendary surfing beaches of Padang Padang.
Jet set wisdom:
Damien Dernoncourt, CEO of jeweler John Hardy, splits his time between Bali and Hong Kong.
Eat:
"Warison has the best foie gras in Asia, and Made's Warung is good for simple and fresh food that's a combination of old and new Bali."
Shop:
"Bruce Carpenter in Sanur is the most reliable antiques dealer in the region. For resort wear made with the best fabrics, try Biasa in Seminyak."
Play:
"Canggu Beach is great for surfing or just strolling."
NEXT: Costa Rica
Last updated October 23 2008: 8:04 AM ET
Email
|
Print
|

Digg this story
|
RSS