Just because your personal treasury is shrinking, it doesn't mean your travel plans should too. (So arrivederci, Milano. Hello, Marrakesh!)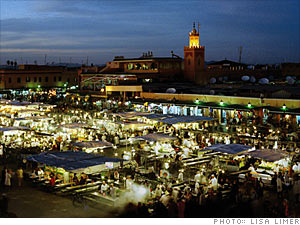 Playing the market Shop for spices and more in Marrakesh's main square.
You don't have to be a Forex trader to have noticed something amiss abroad. From that $1,000-a-night fleabag hotel in Paris to a $400 pizza dinner in Rome, international travel has become a dispiriting affair.
Despite the dollar's sorry state, however, many countries remain affordable. Low local costs, moreover, are another draw: The money saved on that kilim rug you bartered for could offset the airfare.
"If you know where to look, there are wonderful places that can match more famous destinations at a fraction of the cost," says Jack Dancy, co-founder of Toronto-based holiday specialists Trufflepig, named for those hogs that root out nature's hidden gems.
On the following pages you'll find four opulent destinations that will satisfy your craving for an exotic getaway - without necessitating the other bane of this economy: exotic financing tools.
NEXT: Marrakesh
Last updated October 23 2008: 8:04 AM ET
Email
|
Print
|

Digg this story
|
RSS