The economic meltdown has cast new light on what goes on inside America's boardrooms. We offer a gallery of directors of the 500 companies and groups that affect them.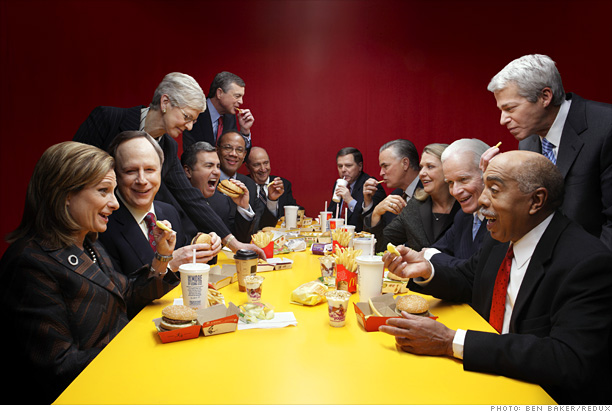 With offerings like the Dollar Menu, McDonald's (
No. 107
) has thrived in the recession, welcoming 58 million customers a day - up 2 million from a year ago. Profits climbed 80% last year, to $4.3 billion.
From left: Susan Arnold, former global president, P&G; James Skinner, CEO, McDonald's; Sheila Penrose, non-executive chairman, Jones Lang LaSalle; Enrique Hernandez Jr., CEO, Inter-Con Security Systems; John Rogers Jr., CEO, Ariel Investments; Robert Eckert, CEO, Mattel; Roger Stone, CEO, KapStone Paper and Packaging; Cary McMillan, CEO, True Partners Consulting; Ralph Alvarez, president and COO, McDonald's; Jeanne Jackson, president, direct to consumer, Nike; Andrew McKenna, non-executive chairman, McDonald's; Richard Lenny, former CEO, Hershey; Walter Massey, president emeritus, Morehouse College
NEXT: (RED)
Last updated April 23 2009: 4:10 PM ET
Email
|
Print
|

Digg this story
|
RSS