Here are the places where B-school students most want to work, according to a survey by research firm Universum, for an exclusive Fortune.com list. Not only are these top 15 employers popular, but even in this economy most are looking for talent.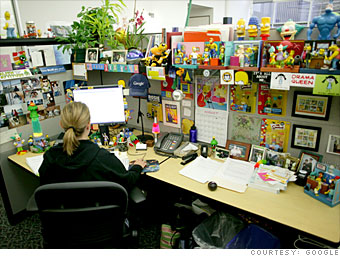 % of MBAs who want to work there*: 20.67%
Headquarters: Mountain View, CA
Hiring plans: The company's job postings seek MBAs for marketing, people operations, finance, advertising, sales, general management, partnership development and other openings.
What they're looking for: "Talent and intelligence, group spirit and diversity, creativity and idealism," according to its website.
The search engine giant tops the 100 Top MBA Employers list for the third year in a row and it's not because of the fitness classes and free massages, or the fact that lunch offerings like Thai beef salad and grilled wild king salmon are on the company's dime (although Google has cut back on perks like its annual all-expenses paid ski trip and complimentary dinner service this year).
Rather, one fifth of all B-school grads strive to be "Nooglers" (new Google employees) because of the company's stellar reputation and innovative work environment, says Claudia Tattanelli, CEO of Universum North America.
Getting in the door is no easy task, though. Google doesn't have a hiring program specifically geared toward MBAs. And applicants must endure a phone interview, problem-solving assessments and at least four interviews with managers and potential colleagues, the company's careers site says, adding: "Yes, it takes longer, but we believe it's worth it."
NEXT: McKinsey & Company
Last updated May 27 2009: 10:13 AM ET
Source:
Universum
* Based on survey respondents who selected as one of their top 5 ideal employers.
Methodology