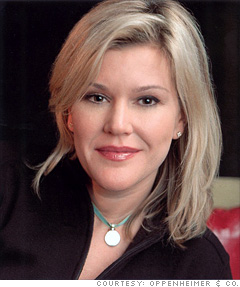 What openings do you have now at Meredith Whitney Advisory Group?
We are looking for 10 more people in research, sales trading and back office.
What's great about the jobs?
Our firm has a very special culture. The standards are high both professionally as well as ethically.
What are you looking for?
Put simply, we are a hypercompetitive team of "nice people." We take that very seriously.
Any secrets to impressing you?
Do extensive research on the firm before the first interview. It is amazing how much that can differentiate a candidate. --Katie Benner

NEXT: Charles Best, DonorsChoose.org Founder and CEO