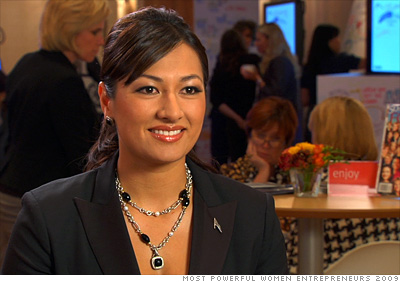 Founder, president and CEO, Lanmark Technology
Born in Virginia to parents who fled Vietnam days before the fall of Saigon, Hay grew up determined to make a better life for herself.
With little money to pay for college, she got into the U.S. Naval Academy. She served in the Navy for nine years as an intelligence officer and aviator. She earned an MBA, then decided she wanted to start a business that would be less risky than most start-ups.
So she decided to turn to federal contracting, where profit margins are hardly lavish, but revenues are reliable because, Hay says, the U.S. government "is a client that would always be around and inevitably gets bigger."
Lanmark, a professional services company she started six years ago, recently won a contract that's likely to multiply its revenues. Hay is building cautiously, though.
She learned in the Navy: "Run a tight ship. Be conservative with infrastructure and overhead costs." Hay's personal goals are more extravagant: She aims to build a $1 billion company, move into politics, become governor of Virginia...and let's just say, her ambition doesn't stop there. --P.S.

NEXT: Elizabeth Bennett