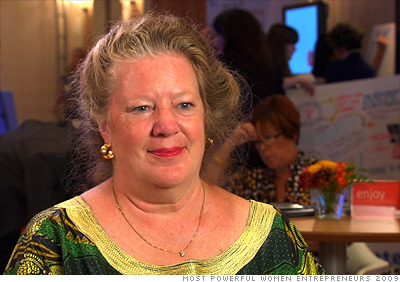 Co-founder and co-owner, Africa Direct
Great businesses are often born out of personal passion. Africa Direct certainly was. In 1994, Bennett and her life partner, Sara Luther -- who are fans of African art and the co-parents of adopted African-American kids -- took their three youngest children out of school and moved to southern Africa for eight months.
By camper van, they traveled 15,000 miles through South Africa, Lesotho, Mozambique, Zimbabwe, Botswana, Swaziland... and collected so much stuff that they didn't have room to keep it.
Back home in Denver, they started selling their African art and wares. And before they knew it, they had a $50,000-a-year business.
eBay transformed Africa Direct. "It let us sell all over the world," Bennett says.
Today, she and Luther are top eBay sellers who support hundreds of African artists and craftspeople. They still operate out of their home, where the garage is the "office" and the basement holds a vast inventory of art, artifacts, jewelry, baskets, masks, carvings, and textiles.
Says Bennett: "When you go downstairs, it smells like Africa." --P.S.

NEXT: Sheila Lirio Marcelo