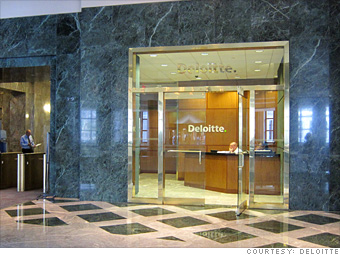 2010 Best Companies rank: 70
Current openings: 11,000
Opportunities range from interns to analysts to senior consultants, managers, directors and partners. In consulting, Deloitte seeks professionals in healthcare and life sciences, technology, financial services and the federal practice. On the tax side, it seeks international, multi-state and federal tax experience. In financial advisory, openings focus on analytics and forensics. In audit and advisory, technology and business risk professionals are needed.
What are you looking for?
We're looking for innovators -- people who will discover new ways to help our clients build stronger businesses, those who are not afraid to suggest how we can make the workplace more productive and bring ideas that can change the marketplace.
We seek motivated individuals who want to continue to learn and be challenged, who have superior interpersonal and communication skills and a willingness to travel.
We also look for candidates who show interest in serving the communities in which our people live and work.
Any secrets to impressing your recruiter?
Display a great attitude as well as a strong work ethic.... Understand who we are and what we do and demonstrate [your] level of interest and preparation by not only emphasizing relevant strengths, but asking insightful questions.
--Interview with Diane Borhani, recruiting director
NEXT: PricewaterhouseCoopers
Last updated January 25 2010: 1:37 PM ET
*Number of job openings as of Jan. 13, 2010.