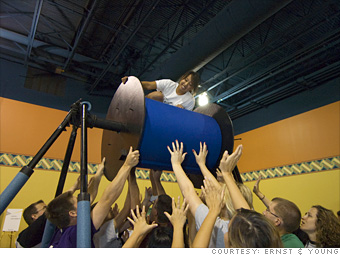 Interns compete at a team challenge during E&Y's annual leadership conference.
2010 Best Companies rank: 44
Current openings: 622
Opportunities in a wide range of areas, including finance, taxes, supply chain, customer, strategic direction and program management; IT, people and organizational change consulting. Skills in demand include finance transformation, business performance management, procurement, logistics, pricing as well as Oracle, SAP, Hyperion and other technology platforms and tools. Experience in restructuring, valuation, transaction integration and transaction tax also is in sought.
What are you looking for?
In addition to having the requisite technical experience, we want candidates who are truly proactive, strong team members. [They should be] highly adaptable to change and have a high amount of intellectual curiosity.
Any secrets to impressing your recruiter?
Have a positive and enthusiastic attitude, be passionate about what you do, and describe specific experiences and results you've achieved [as well as] what you want to achieve.
--Interview with Larry Nash, recruiting director
NEXT: USAA
Last updated January 25 2010: 1:37 PM ET
*Number of job openings as of Jan. 13, 2010.