Fortune takes you inside six boardrooms at the heart of the U.S. economy.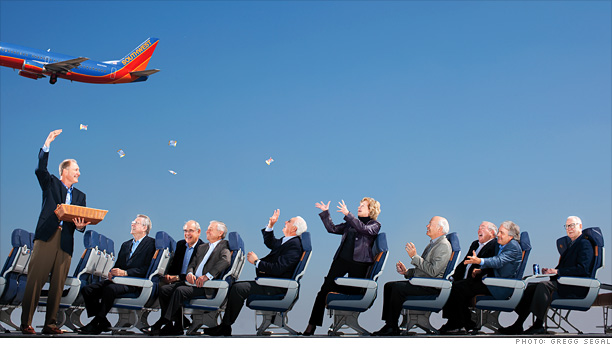 Left to right: Gary Kelly, CEO, Southwest Airlines; C. Webb Crockett, attorney, Fennemore Craig; William Cunningham, former chancellor, University of Texas; John Montford, CEO, JTM Consulting; John Denison, former chairman, Global Aero Logistics; Nancy Loeffler, chair of the University of Texas M.D. Anderson Cancer Center Foundation; David Biegler, CEO, Southcross Energy; Daniel Villanueva, partner, RC Fontis; Douglas Brooks, CEO, Brinker International; Travis Johnson, attorney
The only Fortune 500 airline to land in profitable territory last year,
Southwest
touched down with $99 million in earnings. The low-cost carrier, with a fleet of more than 500 Boeing 737s, battled the recession and high fuel prices by trimming unpopular flights and luring travelers with a "Bags fly free" promotion, making it the largest domestic airline by total passengers for the third consecutive year.
NEXT: The Business Roundtable