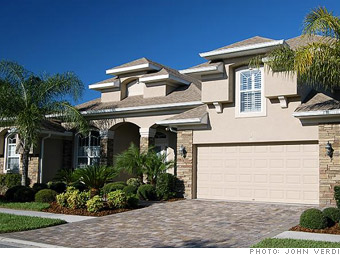 Marketwatch
Price: $435,000
Bedrooms: 4
Baths: 4
Square feet: 2,996
Property size: 0.36 acre
Annual taxes: $5,622
List date: 9/21/09
Amenities: Newly remodeled kitchen features granite countertops and stainless-steel appliances. Private pool and deck area perfect for entertaining.
2009 median home price: $143,970
Population: 72,472
Blue-sky days per year: 230
Retirement guides routinely rate Naples and Miami as top spots for snowbirds, but data from Moody's Analytics show that median home prices in those markets could still drop another 26% and 38%, respectively. A more stable alternative? Palm Coast, south of Jacksonville, which has seen the median housing price fall 48% from its peak in 2005 -- and has only another 7% to fall before hitting bottom.
Not that the city has gone undiscovered by retirees: Nearly 38% of Palm Coast's residents are over 50, making it the most "elderly" city on our list. But the community is ideal for active seniors. It boasts 10 golf courses and biking and hiking trails in Washington Oaks Garden State Park. Like other Florida residents, Palm Coasters enjoy low vehicle-registration fees and zero state income taxes. "We wanted to get away from the cold Midwestern weather for our second home," says Mike Gill, a 58-year-old Kansas City attorney who recently purchased in Palm Coast with his wife. "Palm Coast fell right in our price range, with the charm and amenities we were looking for."

More galleries

Last updated May 27 2010: 7:30 AM ET
Sources: National Association of Realtors (price); U.S. Census Bureau (population); Weather.com (sunny days)