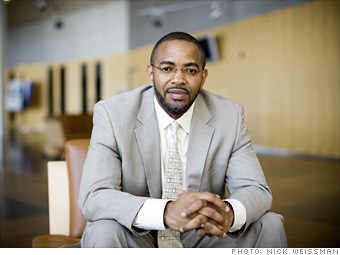 CEO, IC Data Communications
If your company needs info-technology services and you're not a Fortune 500 company, who do you call? This Detroit IT startup by Terence Willis and Dwayne Carson might be just the ticket.
After serving in the U.S. Army and taking college courses in his spare time, Detroit native Willis returned home and started the business with his friend Carson based on providing IT services to companies and non-profits that can't afford their own IT departments. They took advantage of a local incubator: TechTown, the research and technology park associated with Wayne State University.
Willis views the whole globe as his company's marketplace. Work for a client led to a trip to Lagos, Nigeria, where Willis saw immense oil wealth and imagined a variety of opportunities for Detroit-based businesses to sell in sub-Saharan Africa. "The concept is for Detroiters to export technologies to these markets. You see lots of Korean and Chinese businesses there -- we should be there too.''

NEXT: Sandra Pierce

Last updated August 09 2010: 11:01 AM ET