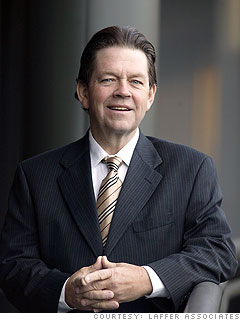 Then:
As legend has it, economist Art Laffer (later a top advisor to President Reagan) sketched a curve on a napkin in a 1974 meeting to show Donald Rumsfeld and Dick Cheney why rising tax rates at some point bring diminishing returns. The Laffer Curve helped inspire the supply-side movement.
Now:Now he is chairman of advisory firm Laffer Associates and Laffer Investments, both of which he runs with his son, who is CEO. He recently co-authored a new book, Return to Prosperity.
Four years ago, he picked up and moved from California to Tennessee for one key reason, he says: "There is no income tax in Tennessee."
In nearby Kentucky, he purchased farmland, where he has been planting hardwood trees and spending almost every weekend with his family. "Land is a pretty good asset for inflation," says Laffer, now 70. "And it's a perfect way to transfer wealth to my grandchildren."
By Ellen Florian
NEXT: Roger Enrico
Last updated October 28 2010: 8:20 AM ET