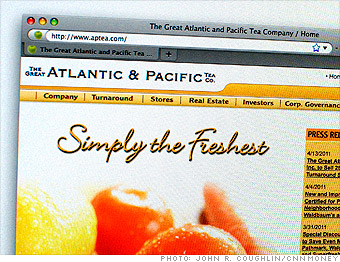 2010 loss: $876.5 million
The century-old Montvale, NJ-based grocer, which operates nearly 400 supermarkets under names including Waldbaum's, Food Emporium, and Pathmark, filed for bankruptcy at the end of the year.
Better known as A&P, the grocer failed to compete with wholesale clubs, drugstores and supercenters. The bankruptcy was needed to bring costs in line with the grocer's financial obligations, including hundreds of millions in pension funding and liabilities from leases that the company has been unable to shed.
A&P's rocky year was also marked by turnover at the top. CEO Ron Marshall, who started his job in January, lasted fewer than six months before being replaced by former OfficeMax operating chief Sam Martin at the end of July. In the year ahead, it remains to be seen how the grocer will fare as it emerges from bankruptcy under its new CEO.
NEXT: 15. Avaya
Last updated May 05 2011: 3:06 PM ET