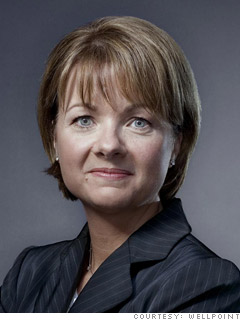 Title: Chairman, President and CEO
Company: WellPoint
Age: 49
Compensation: $13.5 million
Angela Braly has proven herself a jack-of-all-trades at the nation's largest insurance company. Before she became CEO in 2007, Braly was at various times WellPoint's executive vice president, its general counsel and its chief public affairs officer.
That diverse skill set came in handy when the company came under fire last year after the Obama administration singled it out for raising premiums and indirectly accused it of revoking coverage for women with breast cancer. Braly, in response, came out swinging -- she adamantly denied the accusations and credited rising premiums to rising costs.
Despite last year's challenges, WellPoint's 2010 earnings jumped by 11% over 2009, even as revenue dropped slightly. It rewarded shareholders with news it would launch a $0.25 quarterly dividend -- its first ever.
NEXT: Indra K. Nooyi
Last updated May 05 2011: 3:07 PM ET