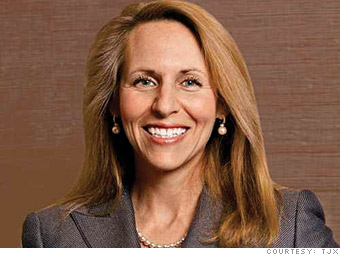 Title: President and CEO
Company: TJX
Age: 57
Compensation: $17.4 million
Carol Meyrowitz has been a friend to both shoppers and investors looking for a bargain. Meyrowitz took over TJX as CEO in 2007 and helped grow the discount retailer -- which includes formidable names like T.J. Maxx and Marshalls -- to more than $21 billion in revenue last year.
It hasn't dominated on all fronts. The company announced plans to discontinue its A.J. Wright chain -- eliminating 4,400 full- and part-time jobs in the process. But its core retail chain, T.J. Maxx, is making headway. Buoyed by its attractiveness to bargain-hunters, the retailer is moving into more gilded territory -- seeking to open new stores in some of New York's more posh shopping districts, including a new store near Manhattan's Columbus Circle.
Meyrowitz, who started out as an assistant buyer at Saks, has boosted profits and increased sales since taking the helm in 2007. Her fourth year as CEO will be a test of whether she can keep that downturn-driven momentum going. The company has scaled back its growth estimates this year, projecting only a 1% to 2% increase in same-store sales -- that's less than the 4% growth last year and the 6% boost the year before.
NEXT: Ursula M. Burns
Last updated May 05 2011: 3:07 PM ET