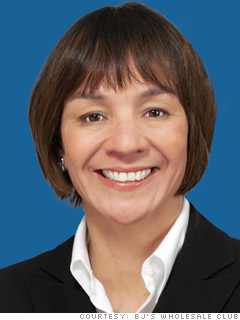 Title: President and CEO
Company: BJ's Wholesale Club
Age: 54
Compensation: $4.0 million
Famously passed over for the top job at BJ's Wholesale Club in 2003, Laura Sen left the company and came back -- finally taking over as CEO in 2008.
BJ's is the third largest wholesale club company in the U.S., though it's based primarily on the East Coast. It woos shoppers by offering more selection and more manageable sizes than competitors Costco or Sam's Club. Since Sen took over, BJ's has made a push to improve operations and sales have climbed -- landing at $10.6 billion last year, up from $9.8 billion the year before.
Going forward, Sen's perseverance may again come in handy. Earlier this year, BJ's announced it would close five underperforming stores, and redirect savings to investments in IT, expansion elsewhere, and remodeling. BJ's also says it's considering a sale and buyout firm Leonard Green is reportedly a potential buyer.
NEXT: Andrea Jung
Last updated May 05 2011: 3:07 PM ET