From a frozen-food gourmet to a dot-com plant doctor, this year's Fortune 500 boasts several fascinating gigs.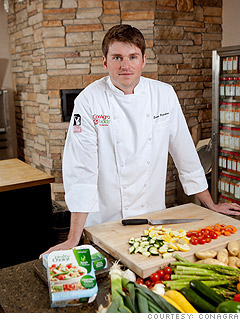 Company: ConAgra Foods
Employee: Evan Brockman
Job: Product development chef

The beauty of frozen food is that it requires almost no prep time. But every conveniently packaged portion starts with a team putting in time in the kitchen.

One of the culinary experts behind Healthy Choice and other well-known frozen food brands is Evan Brockman. He's a chef at ConAgra, a company that makes products for commercial foodservice customers and consumer brands such as Chef Boyardee, Slim Jim and Marie Callender's. "We try to take what we see in a restaurant and do it on the line," he says. He and his colleagues cook new dishes, then figure out how to meet the price and nutrition constraints of, for example, ConAgra's Healthy Choice franchise.

Brockman has been cooking ever since he was 18, when he worked as a chef in a restaurant called Billy Frogg's in downtown Omaha, Nebraska. He later attended culinary school and worked in several other kitchens until he joined ConAgra about two-and-a-half years ago.

But he does more than cook at ConAgra: Brockman and some of the company's food science experts also work on innovative packaging to make microwavable meals taste as fresh as possible. He recently helped develop packaging that allows customers to steam vegetables separately from the sauce -- a solution that he says makes a big difference in the taste.

Brockman says he sometimes grabs a Healthy Choice meal, or two, for lunch on the go. The lemon chicken recipe is particularly good, he says.
NEXT: Used car whisperer
Last updated May 18 2011: 8:41 AM ET