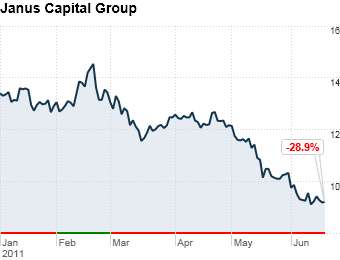 YTD performance: -29%
Market cap: $1.7 billion
Shares of Janus Capital (JNS) got hit hard last month when two of its largest equity funds were yanked from a Bank of America Merrill Lynch portfolio.
It was a big blow to the Denver-based money management firm, which has been struggling to reverse almost two years of asset outflows. Money management firms like Janus earn a bulk of their revenue from fees based on assets under management. So having funds included in portfolios of major brokerage firms no doubt boosts overall fund flows.
With shares down nearly 30% year-to-date, the stock is relatively cheap -- it trades less than 10 times earnings estimates for the year. A majority of analysts have assigned a 'hold' rating on the stock.