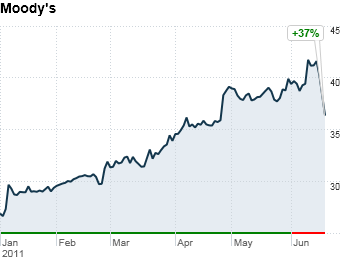 YTD performance: 37%
Market cap: $8.3 billion
Investors in Moody's (MCO) have had a great year, despite ongoing criticism that credit rating agencies did not do enough to stop the financial crisis.
Shares of Moody's rose sharply in the first half the year, after the company posted a 47% increase in profits that topped analysts forecast, as well as raising its full-year guidance. The company also hiked its dividend by 22% to 14 cents a share.
Moody's earnings have been bolstered by the bond market's recovery in the past year. Typically each large bond issuer, such as states, cities or major corporations, will get their credit rating reviewed by the big three credit agencies -- Moody's, Standard & Poor's and Fitch. Corporate debt is at near-record levels and muni bonds, which took a hit earlier this year, have returned to popularity in the past couple months.