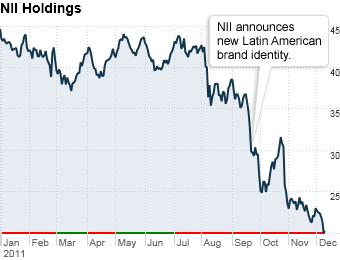 YTD stock performance: -55%
Market cap: $3.5 billion
Fortune 500 rank: 406
It's been an up-and-down year for NII Holdings, which specializes in push-to-talk mobile communications in Latin America under the Nextel brand. The company posted strong results for the first quarter of 2011, with revenue and earnings up 26% year to year.
With a second strong quarter in the books as well, NII decided to raise its guidance on annual revenue to $7.1 billion from $6.6 billion. But the move proved a mistake as third-quarter results missed projections due to lower sales and higher expenses related to currency exchange and taxes. The company reverted to its guidance from the first quarter.
"We expect a negative reaction to the results," J.P. Morgan warned in an October note. NII will have to work hard in 2012 to restore investor confidence in its ability to increase subscribers in Brazil, Argentina, and Peru, while fending off growing competition.