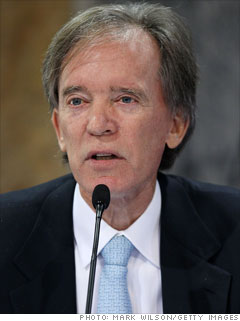 Bill Gross, the chairman of Pacific Investment Management Co., (Pimco) and one of the world's most influential bond investors, issued his own mea culpa this year.
Gross used part of his firm's $1.2 trillion bond holdings to bet against Treasuries. Early in the year, Gross told investors that the United States' financial troubles would cause investors to flee U.S. debt.
Instead, investors sought Treasuries as a way to hedge against turmoil in the global markets, pushing 10-year prices up and yields down to historic levels. In an interview with the Wall Street Journal in August, Gross said he "lost sleep" over the decision, and added that it was a "mistake."
Now, investors are taking their money out of Pimco, with $1.4 billion pulled out of Pimco's Total Return Fund (PTTRX in December, according to Morningstar. That brought Pimco's total outflows for the year to nearly $5 billion -- its first annual outflow in at least two decades.
Long one of the industry's best performing funds, the Total Return Fund trailed its peers last year, including its rival and slightly larger counterpart BlackRock (BLK). Larry Fink, BlackRock's CEO made it clear his firm was a net buyer of Treasuries, which paid off.