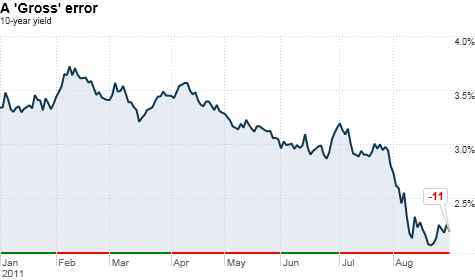 Click the chart to check yields on U.S. Treasuries and other bonds.
NEW YORK (CNNMoney) -- Investors have been pouring their money into U.S. Treasuries all year, much to the consternation of bond guru Bill Gross, who had been advocating for investors to dump out of government debt because of their low yields.
Gross, who manages the world's biggest bond fund, is now admitting that he struck out.
Pimco's Total Return Fund (PTTRX), which has $245 billion in assets under management, slashed its exposure to U.S. government debt to zero in February, betting that U.S. Treasury prices would fall and yields would spike.
That didn't happen.
The 10-year yield stood at a lofty 3.75% in February. Less than two weeks ago, the yield on the 10-year note touched a record low below 2%, and it now stands at 2.17%.
Even as recently as June, when the 10-year yield had drifted down to 3%, Gross was still badmouthing bonds. He even went so far as to liken Treasury investors to frogs getting cooked alive in slow boiling pot of water, unaware of the consequences. He was confident that the Federal Reserve's conclusion of QE2, its bond buying program, would push yields even higher.
But now that yields have dropped as low as they have, Gross has changed his tune.
He told the Wall Street Journal that he has "lost sleep" over his bet, and called it a "mistake."
In a separate interview with the Financial Times, Gross was just as humble.
"Do I wish I had more Treasuries? Yeah, that's pretty obvious," he said to the London-based newspaper. "I get that it was my/our mistake in thinking that the U.S. economy can chug along at 2% real growth rates. It doesn't look like it can."
Thanks to Pimco's wrong-way bet, the once leading bond fund is up just 1% this year, trailing the returns of a whopping 84% of its peers funds, according to Morningstar data.
Much of the slide in U.S. Treasury yields came after a nasty debt-ceiling debate and Standard & Poor's credit rating downgrade. Than panic selling picked up as investors looked to U.S. debt for safety, amid growing fears that the U.S. economy could dip back into a recession.
Investors were also encouraged to stick with Treasuries after the Fed pledged to keep interest rates near record lows for another two years.
The changing dynamics and circumstances have pushed Gross to reconsider Pimco's grim outlook for U.S. Treasuries, and in recent months, he has started to buy government debt.
He told the Financial Times that the firm has "moderated" its bearish position, noting that the economies of the United States and other developed countries are the crossroads of a recession. But Gross noted that Pimco still does not own "tons of Treasuries."
And over the long term, Gross maintains his argument that government will spur higher inflation to reduce the value of their debt.
Gross was unavailable for immediate comment.