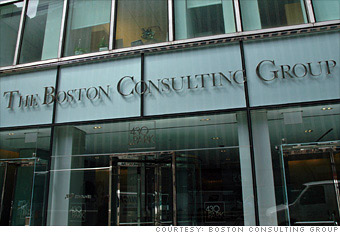 Average total pay: $154,051
For:
Consultant*
Elite management consulting firm offers signing bonuses to new hires, as well as profit-sharing bonuses of between 5% and 10% of salary, and perks like automatic "gold" status on key partner airlines. Everyone gets three weeks' vacation to start -- which rises to four weeks after two years on the job.
To make the pot even more attractive, BCG last year launched "Project Choice," which lets people decide how their total compensation is split up. The firm lowered its automatic 15% retirement contribution, but raised base salaries and bonuses -- providing consultants with more cash on hand to pay off loans and other expenses.
BCG also looks out for employees' work-life balance. The firm issues a "Red Zone Report" showing which consultants have worked more than 60 hours for five weeks straight, so managers can lighten their load.
NEXT: NetApp
Last updated January 26 2011: 2:26 PM ET
*Most common salaried job