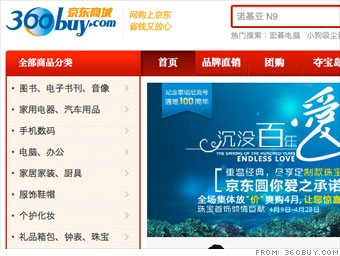 Headquarters: headquarters: Beijing, China
Listing: private
It's nearly impossible to compete with China's largest e-commerce site Alibaba, but 360buy.com has quickly turned into a formidable rival.
Operated by Beijing Jingdong Century Trading Co., 360buy.com has distinguished itself from Alibaba by selling and shipping a wide variety of products, including computers, dishwashers and mobile phones to Chinese consumers rather than simply linking consumers to one another.
The so-called business-to-consumer part of e-commerce is expected to triple next year to $102 billion per year, or 47% of all online sales, according to Chinese research firm Analysys International.
360buy.com quickly established a foothold in the business-to-consumer market by mimicking Amazon.com's business model. While Alibaba's Taobao mall still has a larger market share, 360buy.com is quickly catching up.
360buy's executives have said that the company plans to go public in the U.S. this year, hoping to raise between $4 billion and $5 billion, which could make it one of the largest IPOs in U.S. history. The site is said to have generated roughly $1.6 billion in 2010 revenue.