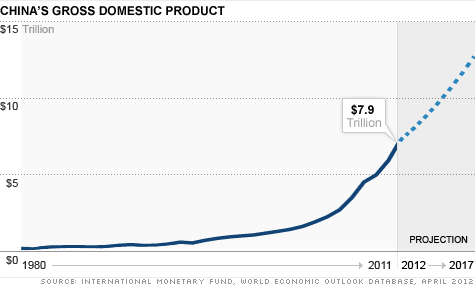 NEW YORK (CNNMoney) -- China is facing some serious growing pains.
On the world stage, the country has become an economic powerhouse to be reckoned with. But look a little closer to home and there are plenty of reasons why the most populous nation is still trailing far behind the developed world.
After years of untapped potential, economic growth took off shortly after the Chinese government launched major reforms in 1978. It has since grown at an average of around 10% annually.
Over the last decade alone, the country has moved up four places, surpassing France, the United Kingdom, Germany and Japan to become the world's second largest economy behind the United States.
At roughly $7.9 trillion, China now accounts for more than a tenth of all global economic activity.
China has already surpassed the U.S. when it comes to exporting and manufacturing, and is expected to overtake America's economy in size by 2027, according to economists from Goldman Sachs.
But the benefits of China's meteoric rise aren't being shared equally among the country's 1.4 billion people.
When divided up per person, China's gross domestic product is estimated to be just $9,143 per capita in 2012, ranking 91st in the world according to the International Monetary Fund. (That's adjusted for cost of living).
Iran, Azerbaijan and Botswana -- countries rightfully considered part of the developing world -- are richer per person.
To be sure, China is experiencing a huge demographic shift, lifting millions of its people out of poverty. Masses are moving from rural areas to the cities, and wages are rising. That's partly why its growth has been on fire.
But urban Chinese consumers buying up Louis Vuitton bags and iPhones are probably more like the exception than the norm.
The average household earns under $3,000 per person in the cities, and only $900 in the countryside, according to 2010 data from China's National Bureau of Statistics.
"While the coastal cities of Shanghai, Tianjin, and Beijing give the impression of wealth and a standard of living on par with the advanced countries, most of rural and inland China is much poorer, some of them with large numbers living in difficult economic circumstances," said Vikram Nehru, a senior associate in the Asia Program at the Carnegie Endowment.
Nehru estimates that 200 million people in China live on under $2 a day. That's astonishingly high -- equal to roughly two thirds of the U.S. population.
If the Chinese economy continues to grow at a rapid clip, more of those people could stand a chance at improving their quality of life, but that transformation will take years.
The Chinese government has said it expects to see its gross domestic product grow 7.5% this year, a slowdown from the years of 10% gains.
At that rate, it could take until 2018 or 2019 for China's economy to reach $15,000 per capita -- a benchmark considered by many analysts as the rough minimum for a developed economy.