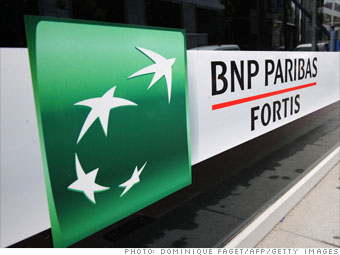 Rank:
18 (Previous rank: 24)
CEO:
Baudouin Prot
Employees:
182,459
Address:
16 Blvd. des Italiens
Paris 75009
Country:
France
Website:
www.bnpparibas.com
BNP Paribas has had an up-and-down year. After Europeís credit crisis spun out of control, Fitch downgraded the French financial service giantís debt rating. But BNP still managed to top recent profit forecasts. It moves up six notches on our list this year.

Changes are afoot: BNP recently reshuffled its private equity division while taking on an array of acquisitions. BNP also plans to increase its pool of investment bankers by 20% in the next two years, hoping to break into the top five European investment banks by 2012.

-- A.K.
Subscribe to Fortune Magazine
| | $ millions | % change from 2008 |
| --- | --- | --- |
| Revenues | 130,708.1 | -4.0 |
| Profits | 8,106.2 | 83.3 |
| Assets | 2,952,591.0 | -- |
| Stockholders' equity | 99,727.0 | -- |
| Profits as % of | |
| --- | --- |
| Revenues | 6.2 |
| Assets | 0.3 |
From the July 26, 2010 issue