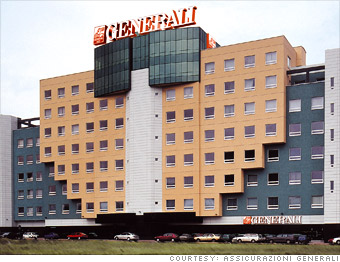 Rank:
19 (Previous rank: 47)
CEO:
Sergio Balbinot / Giovanni Perissinotto
Employees:
85,322
Address:
Piazza Duca degli Abruzzi 2
Trieste 34132
Country:
Italy
Website:
www.generali.com
Italy's biggest insurance company has been busy; it restructured, expanded and went after the competition. Generali bought insurance companies in Germany and Spain, cut an investment deal with a major Italian bank, set up an asset management company in Luxembourg, and even opened an office in Vietnam.

While Generali certainly looked good last year (its earnings were the second highest in the industry), analysts say its stock has been underperforming by 15% this year partly because of the Greek debt crisis.

-- B.F.
Subscribe to Fortune Magazine