Sprucing up the Rust Belt
Kokomo, Ind., a car manufacturing town filled with engineers and skilled laborers, is betting on technology and green energy to take it into the future.
Photos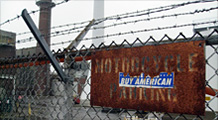 NEW YORK (CNNMoney.com) -- Who builds the new industries that replace the old and keep the country on its competitive footing?
In Kokomo, Ind., it's people like Chris Rohaly, a founding partner in Green Alternatives Inc.
Green Alternatives aims to be a one-stop-shop for homeowners, farmers or small business owners looking to power their buildings with solar, wind or other renewable energy sources.
And in this town of about 45,000, which is on the brink of disaster due to its reliance on the dying auto sector, it's businesses like Rohaly's that local officials hope will keep the town on the map.
"The next wave of renewable energy has a lot of parallels with what we've been working on in auto electronics for a long time," said Rohaly, who still works a day job as a electrical engineer at Delphi, the bankrupt auto electronic firm and still a major employer in Kokomo. "It's not a big stretch from a technological standpoint."
Rohaly started the company last year along with another electrical engineer, a builder, an electrician and a lawyer.
"We first thought about it as an insurance policy," said Rohaly, who like everyone else in town is worried about what might happen if Chrysler, the town's biggest employer, goes out of business. "But now we're very excited about it, bringing renewables into the mainstream in the Midwest."
Green Alternatives is in the process of converting the lawyer's building into the company's headquarters, and is giving it a full makeover complete with efficiency upgrades and a rooftop solar panel array. The building is still connected to the grid, so when it's cloudy it will be able to still get power. But when it's sunny, it will sell power back to the grid. On balance, Rohaly said the building's electric bill should be zero.
Rohaly's already has two clients lined up, but he doesn't think this one business will replace the thousands of automotive jobs currently at stake in town. Eventually he hopes to make this a full time job, with six to eight commercial clients a year.
"Ultimately we'd be happy if this was a moderate success, and the automotive sector doesn't go under," he said.
But town officials, while hoping for the best, are rapidly trying to diversity their economy.
In addition to renewable energy installation, they're trying to attract the companies that actually make the solar panels and windmills that produce alternative power.
They're also going after tech firms. To that end, they've opened up a business incubator in town that gives reduced rent and other services to tech start-ups.
So far the complex, housed in an old Delphi office building, has a robotics firm; a company working on advanced traffic signals that help emergency vehicles move through urban areas; and Dealerflow, a firm developing social networking applications, instant messenger services and shared calendars.
Dealerflow, as it's name suggests, makes software specifically for auto dealers. Not coincidently, it was founded by another former engineer for Delphi and then worked at an auto dealership.
Dealerflow is also working on another application called Peopleflow that has similar features and is targeted to a broader corporate audience.
Eventually, if it succeeds, the company hopes to employ 150 workers, mostly doing phone support for its clients.
Those jobs might not fit the skilled workers like electricians and machinists at the auto plants, but they might be perfect for all the other laborers that currently work on the assembly line.
Either way, Kokomo's workforce is one of the reasons the reasons Dealerflow has decided to make a go of it in town.
"I look forward to supplying good, solid jobs for people," said Sally Eltzeroth, director of customer relations at Dealerflow and a former Delphi employee. "I worked with them, I know what kind of workers they are."

To write a note to the editor about this article,
click here
.