A few laps behind the wheel of an early version of GM's electric car shows the strengths - and possible weaknesses - of the technology.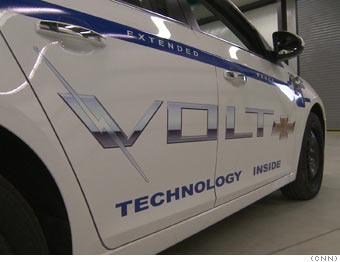 It was a rare opportunity when General Motors recently invited a few reporters to test drive a Chevrolet Volt electric car "test mule" at the carmaker's proving grounds in Milford, Mich.
Very few people who don't work for a car company ever get to drive "mules." These are not-ready-for-prime-time mock-ups used to test new engine, transmission and suspension technologies.
To create a "mule," engineers stuff the mechanicals of a new vehicle into the body of an existing vehicle and test drive that for months. It beats waiting for a whole car.
In this case, the body was that of a Chevrolet Cruze, a new small car model that GM will start selling here next year. The interior, except for a big red "kill" switch on the dashboard, was that of a Cruze, too. Underneath, though, was the battery pack and electric motor, packed under the gasoline engine, of a Chevy Volt electric car.
The guts of the car were about 80% those of the final Chevy Volt, according to Vehicle Line Executive Frank Weber.
Some tweaking still needs to be done before the car enters production, but this is a Chevy Volt.
Here's what it's like to drive GM's big gamble.
NEXT: Charging ahead
Last updated April 15 2009: 1:14 PM ET
Email
|
Print
|

Digg this story
|

RSS