Bernanke: Weak recovery ahead
Fed chairman said high unemployment and tight credit will limit economic growth, but he dismissed worries about another recession and dollar weakness.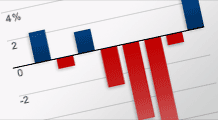 The recovery from the Great Recession has likely started. But many economists are worried about falling into another downturn. Here's what has them concerned.
Bailout tracker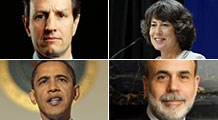 The government is engaged in a far-reaching - and expensive - effort to rescue the economy. Here's how you can keep tabs on the bailouts.
More
NEW YORK (CNNMoney.com) -- Federal Reserve Chairman Ben Bernanke said the recovery in the U.S. economy will be modest, with higher than desired levels of unemployment for the foreseeable future.
Speaking to the Economic Club of New York Monday, Bernanke said in his prepared remarks that financial conditions are significantly better than when he spoke to the club a year ago at the height of the crisis in global financial markets.
But Bernanke cautioned that "some important headwinds -- in particular, constrained bank lending and a weak job market -- will likely prevent the expansion from being as robust as we would hope."
He didn't offer much immediate hope of a better labor market in the United States either.
"Jobs are likely to remain scarce for some time, keeping households cautious about spending," he cautioned.
The latest Labor Department report showed unemployment hit 10.2% in October, the first time it has been in the double digits in 26 years. Employers trimmed 190,000 jobs from payrolls, the 22nd straight month of job losses.
"The best thing we can say about the labor market right now is that it may be getting worse more slowly," he said, adding that he didn't hold out much immediate hope for an immediate turnaround.
"The unemployment rate likely will decline only slowly if economic growth remains moderate, as I expect," he said.
In response to a question from the audience, Bernanke said he doesn't see the same kind of jobless recovery in 2010 that the economy went through following the 2001 recession, in which job losses continued for nearly two years after growth returned. But he did say that he's worried job growth will be so meager next year that it won't make a dent in the unemployment rate.
Bernanke also said credit for small businesses and consumers is likely to remain strained. And he said that tighter credit will be a significant drag on the economy going forward.
But Bernanke said in his remarks that he did not agree with economists who are worried the economy will fall into recession once again next year.
"My own view is that the recent pickup reflects more than purely temporary factors and that continued growth next year is likely," he said.
In addition, Bernanke said that the Fed is monitoring the recent declines in the value of the dollar, but he suggested that much of the weakness was due more to diminishing fears about a global financial crisis.
"When financial stresses were most pronounced, a flight to the deepest and most liquid capital markets resulted in a marked increase in the dollar," he said.
Bernanke added that with the better conditions in markets in recent months, "these safe haven flows have abated, and the dollar has accordingly retraced its gains."
Need to end 'to big to fail'
Bernanke spent part of a question-and-answer period talking about banks and Wall Street firms being "too big to fail" and the problem of valuing assets on their balance sheets.
He said he hoped that the "too big to fail" doctrine that led to the bailout of major banks and Wall Street firms following the bankruptcy of Lehman Brothers needed to become a "relic" in the future, but that could only happen through the creation of new procedures for closing such firms in a more orderly manner.
"We need to have some alternative to bankruptcy or bailout," he said. "We need to have another way to close firms that come to the brink of failure without destroying the rest of the system."
Bernanke said that he doesn't endorse rolling back the 1999 law that allowed commercial banks to engage in Wall Street trading and investment banking. He said he doubts keeping those restrictions in place would have prevented the crisis in financial markets.
"I don't think simply making banks smaller is going to do it," he said when asked about how to get rid of the reality of "too big to fail."
"Banks can still be systemically critical, even if they're somewhat smaller," he added. He also said that large bank failures are not the only threat to the economy.
"After all, in the 1930s we didn't have too many large bank failures, but we had thousands of small bank failures," he said.
But he said that in the future, regulators of major firms needed to be able to place curbs on banks engaging in trading or investment banking activities on a case-by-case basis.
A year ago Bernanke told the same gathering that what he most wanted was to know what all the so-called toxic assets on major financial firms' balance sheets were worth. Monday he said despite improvements made in judging the value of assets in the last year, "I'd still like to know what the stuff is worth."

Features

These Fortune 100 employers have at least 350 openings each. What are they looking for in a new hire? More

It would be the world's second-biggest economy. See how big companies' sales stack up against GDP over the past decade. More