Stocks set to pop higher
Dubai debt relief, gold's run to near $1,200 and talk of a GE-Comcast deal could spur investors at the open.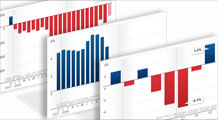 The economy has grown for five straight quarters, but there are signs that the recovery is still fragile.
NEW YORK (CNNMoney.com) -- Stocks were poised to open higher Tuesday as global markets rebounded, gold neared the $1,200-an-ounce mark and amid talk of a GE-Comcast deal for NBC-Universal.
Dow Jones industrial average, Nasdaq and S&P 500 futures were higher.
Futures measure current index values against their perceived future performance, though they're not always an accurate forecast of stock activity after the opening bell.
U.S. stocks finished higher Monday with a rally in bank shares after fears about Dubai's debt concerns faded. Stocks also took their cue from a weak dollar, higher commodity prices and the first round of holiday retail sales reports.
"My sense is that you have a little bit of post-Dubai relief rally underway," said Mark Luschini, chief investment strategist for Jamey Montgomery Scott. "Foreign markets are up a lot, and that's helping to push futures markets as well."
World markets: The announcement by Dubai World, the state-owned entity that triggered the current crisis, that it is in talks to restructure $26 billion in debt sent global markets higher Tuesday. Also contributing to the rally: the Bank of Japan's decision to take action aimed at bringing down the value of the yen.
Tokyo's Nikkei index ended with a 2.4% gain, while Hong Kong's Hang Seng index finished 1.3% higher. In Europe, British, French and German stock indexes were more than 1.5% higher in morning trading.
Gold. Gold for December delivery touched a record $1,199.30 in electronic trading early Tuesday before easing to $1,195.10, up $14.
GE-Comcast. General Electric (GE, Fortune 500) is close to clearing a major hurdle in its path to sell control of entertainment giant NBC Universal to Comcast (CMCSA, Fortune 500), according to published reports Monday. GE has reached a tentative deal to buy Vivendi SA's 20% stake in NBC Universal for $5.8 billion, the reports say.
The tentative plan values NBC Universal at around $30 billion, according to reports, setting the stage for a joint venture with GE, where Comcast would hold a reported 51% stake in what would be one of the world's biggest media companies.
AIG. American International Group (AIG, Fortune 500) said on Tuesday that it is closing two transactions with the New York Fed that will cut its government debt by $25 billion.
Economy. Investors will be taking in several reports Tuesday.
The busy day for economic news will start with three reports at 10 a.m. ET, including the ISM manufacturing index, which is expected to have fallen to 55 from 55.7 in October, according to a consensus of economists surveyed by Briefing.com. The reading would still indicate expansion in the sector.
Construction spending for October is expected to have fallen 0.5% after rising 0.8% in September.
The pending home sales index for October is expected to have fallen 1% after rising 6.1% in the previous month.
Reports on November auto and truck sales are due later in the afternoon.
In the evening, President Obama is expected to announce his strategy on Afghanistan in a speech at West Point, N.Y.
Currency and oil. The dollar fell against all major international currencies except the yen in early Tuesday trading. Crude oil for January delivery gained $1 to $78.28 a barrel.

Features

These Fortune 100 employers have at least 350 openings each. What are they looking for in a new hire? More

It would be the world's second-biggest economy. See how big companies' sales stack up against GDP over the past decade. More