Dollar rises off 3-month lows
NEW YORK (CNNMoney.com) -- The dollar rose against major currencies Thursday as investors concerned about the stability of world markets sought a safe haven. Global stocks fell on Thursday after the Federal Reserve said Wednesday that it plans to hold interest rates steady.
"You couldn't turn on MSNBC or pick up a paper last month without reading about the demise of the dollar, and now it's done a complete 360," said Brian Dolan, a chief currency strategist at Forex.com.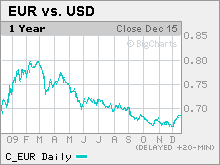 "There are credit concerns about Greece and Ireland among others," Dolan said. "The psychology there is negative for Europe and that is what's weighing on the euro."
The greenback climbed to its highest level since September versus the euro after Standard & Poor's downgraded Greece's credit rating, Dolan said. This followed a downgrade by Fitch just over a week ago when health care companies complained that the country was behind on public health care-system payments.
On Wednesday, the dollar rose against the euro after the Federal Reserve said it would hold interest rates steady near 0% as market conditions improve.
"Yesterday we had the Fed sounding a bit more confident about the recovery," said Dolan. "They noted that the decline in unemployment is abating and consumer spending is showing signs of stabilization."
On Thursday, the euro fell 1.3% to $1.434 against the dollar. The British pound dropped 1.1% to $1.616 versus the greenback.
The dollar gained 0.15% against the yen to ¥89.96.