Exxon profit slides 23%
NEW YORK (CNNMoney.com) -- Exxon Mobil reported a 23% drop in quarterly profit Monday as economic conditions remain challenging, but the energy giant's earnings beat Wall Street's expectations.
The world's largest publicly traded oil company said it earned $6.05 billion in the last three months of 2009, down 23% from $7.82 billion a year earlier. On a per-share basis, Exxon said it earned $1.27, a decline of 18% from the fourth quarter of last year.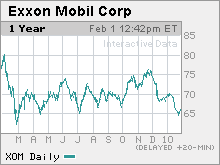 The results were better than many on Wall Street had expected. Analysts surveyed by Thomson Financial had forecast earnings of $1.19 per share.
Shares of the company were up nearly 3% to $66.14 at midday.
"Despite continuing difficult global economic conditions, Exxon Mobil delivered strong business results and built on our long-term focus," Rex Tillerson, Exxon's chief executive, said in a statement.
For the full year, Exxon (XOM, Fortune 500) said it earned $19.42 billion. That's down 56% from last year, when Exxon reported the largest annual profit in U.S. history, as the sluggish economy has undermined energy demand.
Exxon and other companies that convert crude oil into refined products such as gasoline and diesel have been squeezed as demand for fuels remains weak and oil prices have trended higher.
Indeed, the company suffered a quarterly loss of $189 million in its refining unit, compared to a profit of $2.4 billion a year earlier.
Earnings in Exxon's production and exploration unit were up $146 million to $5.8 billion. The company also reported higher quarterly earnings in its chemicals unit.
Despite the ongoing weakness in energy demand, Exxon said production increased 2% in the quarter. Capital and exploration expenditures rose 21% to $8.3 billion.
"All in all, it was a good quarter," said Fadel Gheit, an Oppenheimer energy analyst. "This might be a turning point for the stock."
Gheit said the weakness in Exxon's refining operations was more than offset by increased natural gas production and higher oil prices, as well as better-than-expected performance in the company's chemicals business.
"It was certainly a tough year," said David Rosenthal, Exxon's vice president of investor relations. "But we ended the year strong and we look forward to that momentum continuing as this year gets started."
He said the company has been making adjustments to its portfolio of assets, including refining operations, pipelines and retail stations. But he said the company has no immediate plans to follow the lead of rival energy companies that have divested refining operations to curb losses.
"We don't see a need right now for any significant restructurings," he said.
Chevron (CVX, Fortune 500), the second largest U.S. oil company, said last month it would restructure its refining and retail business. Some independent refiners have also moved to sell or close facilities in recent months.