CA Inc. to cut 1,000 jobs
NEW YORK (CNNMoney.com) -- CA Inc., formerly Computer Associates, said in a regulatory filing that it will cut 1,000 jobs, or 7.5% of its workforce.
The company detailed its restructuring plan for fiscal 2010 in a Securities and Exchange Commission filing. The plan, which was approved March 31, also called for "additional global facilities consolidations," according to the filing. CA (CA) did not elaborate on those consolidations.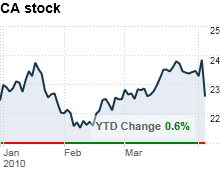 Shares of the Islandia, N.Y.-based software company fell 4.8% shortly after the market opened.
In a memo to employees Tuesday, CA Chief Executive Bill McCracken said the job cuts will be mainly in North America, although all regions globally will be affected.
"These actions are necessary to focus our skills and investments on those activities that support our corporate strategy and have the greatest impact on our performance, growth and customer loyalty," he added.
CA said that the restructuring should be "substantially completed" by the close of the second quarter of fiscal 2011, which ends October 2010.
CA also said it expects to incur a pre-tax restructuring charge of about $50 million. Those expenses will affect both fourth-quarter and fiscal-2010 earnings, the company said, and results will likely be at the low end of previously issued guidance.
GAAP diluted earnings per share for the full fiscal 2010 year are now expected to be $1.46 to $1.57, while non-GAAP diluted earnings are predicted to be $1.60 to $1.71 per share.