233,000 Sony Vaio laptops recalled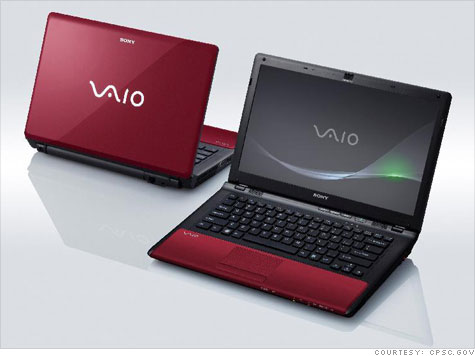 NEW YORK (CNNMoney.com) -- Sony is recalling hundreds of thousands of laptops because of the risk of overheating, creating a potential "burn hazard," said the company and the U.S. Consumer Product Safety Commission on Wednesday.
The commission said that Sony is recalling about 233,000 Vaio laptops.
"Sony has received 30 reports of units overheating, resulting in deformed keyboard and casings," said the commission. "No injuries have been reported."
Sony said this "potential issue" applies to "certain units within the VPCF11 and VPCCW2 series of notebook PCs."
"In rare instances, these notebook computers may overheat due to a potential malfunction of the internal temperature management system, resulting in deformation of the product's keyboard or external casing, and a potential burn hazard to consumers," said Sony.
The company said that anyone with one of these laptops can "download and install a firmware update specifically designed to prevent the potential overheating symptom."
Sony posted information on its Web site for consumers on how to find out if their laptop is affected, and how to download and install the update.