Dollar slumps as economic outlook dims
NEW YORK (CNNMoney.com) -- The dollar slumped against major currencies Thursday as the euro rallied and U.S. economic data disappointed investors.
What prices are doing: The dollar fell 2.5% versus the euro to $1.2520, and dropped 1.1% against the Japanese yen to ¥87.57.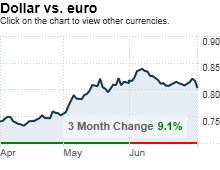 Against the British pound, the greenback lost 0.8% to $1.5177 .
The dollar slipped versus the euro Wednesday after the European Central Bank said demand for 3-month loans was weaker than expected, signaling that the banking sector may be in less trouble than previously thought.
What's moving the market: Worries about the euro zone continued to ease Thursday after the ECB's latest refinancing results came in roughly in line with expectations and a Spanish bond auction was met with strong demand.
"This created a tremendous sense of calm and really boosted the euro," said Boris Schlossberg, director of currency research at GFT Forex. "The demand [at the Spanish auction] was seen as a sign of relief and turned the market around completely."
But doubt about the U.S. economic recovery is really what's dragging the dollar lower, he said.
"The euro spiking is not so much about euro strength as it is about aggressive dollar weakness," said Schlossberg. "It shows that the market is shifting away from worrying about sovereign debt to a greater fear about a slowdown of the economy in the U.S."
Economy: A slew of disappointing U.S. economic data was released Thursday.
Weekly jobless claims jumped to 472,000 last week, up 13,000 from the previous week's revised figure of 459,000. Economists surveyed by Briefing.com expected 458,000 jobless claims.
The Institute for Supply Management's manufacturing index for June fell to 56.2 in June from 59.7 in May, much lower than the slight decrease to 59 economists had expected. But the reading still indicated expansion in the sector.
The National Association of Realtors' pending home sales index sank 30% in May as the homebuyer tax credit ended. Economists had forecast a decline of 10.5%.