Bank of America profits top $3 billion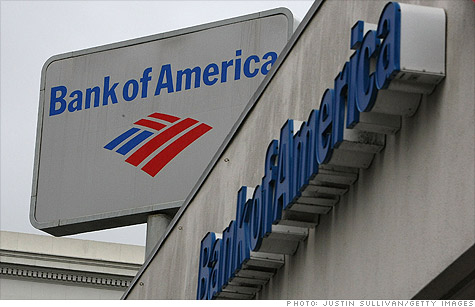 NEW YORK (CNNMoney.com) -- Better-than-expected profits from Bank of America ultimately proved a major disappointment for investors Friday as its results revealed a number of festering troubles at the nation's largest bank.
On its face, the second quarter appeared to be a healthy one for the Charlotte, N.C.-based lender. It earned $3.1 billion, or 27 cents a share, besting analysts' forecasts for a profit of $2.3 billion, or 22 cents a share, according to Thomson Reuters.
But it didn't take long for investors to sour on the numbers, sending Bank of America (BAC, Fortune 500) shares down more than 9% in afternoon trading.
Driving those fears were weaknesses across a number of different businesses.
Bank of America's trading operations, for example, reported a significant decline in revenue from both the previous quarter and a year ago as a result of market fears about sovereign debt in Europe and the direction of the global economy.
Investors were also troubled by the growth prospects for some of the company's various businesses with the state of the U.S. economy in flux and as proposed new rules for the financial industry are poised to go into effect.
Weakened demand for new home loans and refinancing activity, for example, resulted in growing losses within Bank of America's mortgage business during the quarter.
And on more than one occasion during a conference call with analysts, company executives acknowledged that business clients were also reluctant to tap existing lines of credit or apply for new loans.
"Companies are telling us they are reluctant to expand given the uncertainty about the future," said Bank of America CEO Brian Moynihan.
Moynihan, joined by newly installed chief financial officer Charles Noski, also spent a significant portion of the call outlining the impact of financial regulatory reform, which is expected to be signed into law by President Obama next week.
One of the biggest setbacks will likely come within the firm's nearly $3 billion debit card business, as a result of a rule that will give the Federal Reserve power to set limits banks charge retailers to cover the cost of transferring money.
There were however, some bright spots for the firm. Bank of America's once-struggling credit card business enjoyed a return to profitability after losing nearly $1.6 billion a year ago. The company attributed the improvement, in part, to fewer delinquencies and improved efforts to collect outstanding debt from consumers.
Overall, credit continued to improve for the bank. Charge-offs, or loans the company believes it will never collect fell by $1.2 billion from the previous quarter.
Bank of America also benefited from the sale of a number of businesses during the quarter, including its ownership stake in Brazil's largest private bank - Bank Itau Unibanco. It also reported a pretax gain of approximately $440 million from the sale of a stake it held in MasterCard (MA, Fortune 500).
Those gains were slightly offset by a charge it took related to a tax levied by the British government on its bankers working in the United Kingdom.
Bank of America's results largely mirrored the performance of its top competitors. On Thursday, JPMorgan Chase (JPM, Fortune 500) topped forecasts, reporting a profit of $4.8 billion. JPMorgan Chase, like Bank of America, noted that problems tied to consumer loans were diminishing.
Rival Citigroup (C, Fortune 500) enjoyed a similar lift as the company reported better-than-expected second quarter results of $2.7 billion Friday,