Bank of America's dark cloud: Wall Street reform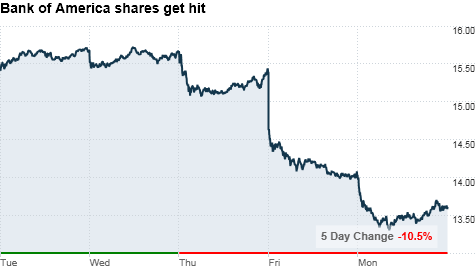 NEW YORK (CNNMoney.com) -- Bank of America's fears about Wall Street reform are giving the whole banking industry a case of the jitters.
Last week, the nation's largest bank explained how the measure will cut into its earnings, particularly when it comes to its debit card business.
Several analysts slashed their earnings outlook for the company, and Bank of America's shares have fallen 10% over the past two sessions.
Up until recently, bankers have remained mum on particular reform measures, saying that regulators will first need to write specific rules.
But Bank of America (BAC, Fortune 500) broke ranks on Friday, detailing the impact of several provisions, including the so-called Durbin amendment, named after sponsor Sen. Richard Durbin, D-Ill., which will limit the fees banks collect from debit card swipes.
Bank of America executives said the new rule would reduce fees earned from debit cards anywhere between 60% and 80% starting in the second half of 2011. This year, the company said it expects to produce $2.9 billion in revenue from that business.
Since Friday, analysts have been recalculating the cost to banks affected by the new rule.
"We now fear that the Durbin bill could have a great negative impact on bank revenue than we had originally estimated," BMO analyst Lana Chan wrote in a note to clients Monday.
Other joined in on the pile-on, including veteran banking analyst Richard Bove and Goldman Sachs' Richard Ramsden, who announced his decision to remove the firm from his "conviction buy" list.
But it's not Bank of America -- or other top lenders such as JPMorgan Chase (JPM, Fortune 500) -- that are expected to be most heavily affected by the new rule.
Rather, the biggest hit was expected to fall on major regional players such as Regions Financial (RF, Fortune 500), KeyBank (KEY, Fortune 500) and Fifth Third (FITB, Fortune 500). Each institution generated over 3% of their overall revenue from interchange fees last year, compared to Bank of America's 2%, according to Chan.
Analysts suggested that perhaps the company most exposed to the new measure was the Minnesota-based lender TCF Financial (TCB). In 2009, more than 10% of its revenue came from interchange. FBR's Paul Miller projected Monday that TCF's earnings could fall by as much as 40 cents a share as a result.
Of course, the Durbin rule is just one small piece of an ongoing effort to rewrite the rules of the road for the financial services industry and its relationship with American consumers.
New laws went into effect earlier this year that not only prevent banks from charging customers overdraft fees without their permission, but also severly restrict how and when issuers can raise the rate on a consumer's credit card.
Banks have not been sitting idly by. A number of major financial institutions have reportedly started to eliminate free checking accounts, as well as imposing new or higher fees, ultimately putting the cost of the forthcoming new laws on the consumer.
"That is probably what is going to happen here," said TCF Financial CEO Bill Cooper said during a conference call with investors last week.