GM makes a move into electric trucks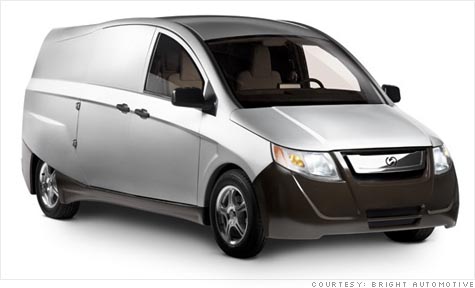 NEW YORK (CNNMoney.com) -- As it prepares to begin sales of the Chevrolet Volt electric car later this year, General Motors is also getting into electric delivery vans with a $5 million investment in Indiana-based Bright Automotive.
GM and Bright announced a strategic partnership Wednesday.
Bright Automotive of Indiana plans to begin selling its van in 2013. Called the Bright IDEA, the van can travel up to 38 miles on electric power from a fully charged battery pack. For traveling longer distances, the van switches to a gasoline/electric hybrid mode in which it can get up to 36 miles per gallon, according to the company. Total range, including electric and gasoline-powered driving, is about 400 miles, according to Bright.
GM's investment is the first by General Motors Ventures LLC, a subsidiary the automaker created in June with $100 million to invest in auto-related start-up companies.
"Funding early-stage start-up companies is a new way of doing business at GM to accelerate the introduction of innovative technology to support our core automotive business and give us a competitive advantage," said Jon Lauckner, President of GM Ventures.

Under the terms of the agreement, GM will take a minority stake in Bright. At the same time, Bright will gain access to GM technologies. The Bright truck will use a GM engine and transmission, Bright executives said.
Bright's business has been "put on hold for some time" due to financial constraints, Bright CEO Ruben Munger said in a conference call. GM's investment allows the company to restart its product development process, Munger said.
Bright will prepare to sell as many as 50,000 vans per year in the United States, Bright executives said during a conference call.
The Bright van has gasoline-driven front wheels and electrically-driven back wheels, giving the vehicle all-wheel-drive capability in hybrid mode.
"The European market is twice as large and gasoline prices are higher there, so the European market looks promising as well," Munger said.
Bright isn't the only company working on plug-in electric commercial trucks. Smith Electric, a company based in Kansas, is selling electric trucks it makes by adding battery packs and electric motors to truck frames and cabs imported from the Czech Republic.
Ford Motor Co. (F, Fortune 500) plans to begin selling a plug-in electric version of its Turkish-built Transit Connect delivery van later this year. The Transit Connect Electric will be built in partnership with Azure Dynamics, a Michigan-based company that produces electric and hybrid commercial vehicles.
Big-rig maker Navistar also plans to enter the electric truck market with its own plug-in commercial delivery van.
Bright claims its vehicle better meets the needs of commercial customers who tend to drive twice as far per year as typical passenger vehicle drivers.