AIG's profitable again, but what about taxpayers?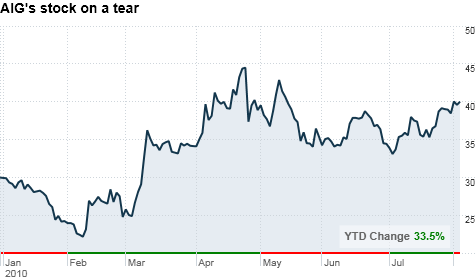 NEW YORK (CNNMoney.com) -- AIG is expected to report another quarterly profit Friday. But the elephant in the middle of the room is staying put.
When will the insurance giant repay the more than $100 billion it still owes American taxpayers? Analysts say they don't expect Friday's earnings report to reveal many answers.
The government decided to bail out AIG when the company was on the verge of collapse in September 2008. So far, the government has given out $136.5 billion in loans and direct payments, of which AIG (AIG, Fortune 500) still owes $102 billion.
AIG rejected a deal earlier this year that could have helped the company cut its debt to taxpayers in half. Two months ago, talks to sell its Asian insurance unit AIA to British insurer Prudential (PUK) collapsed after the two companies haggled over a $30 billion price tag.
On Friday, analysts think AIG will likely say it's on track to raise a significant amount of cash from an initial public offering of AIA in the fall, but they don't expect AIG to throw out any estimates as to how much it might raise through an IPO.
Still, the IPO is clearly plan B for AIG. David Merkel, head of Aleph Investments, a money management firm, said AIG is unlikely to raise any more than $30 billion through an IPO. Merkel used to work for AIG as a life actuary about 20 years ago.
The AIA public offering would be the second sale of AIG's so-called "crown jewels" -- a key part of AIG chief executive officer Robert Benmosche's strategy to divest non-core parts of the company to pay down its debt to the government.
The company agreed in March to sell Alico, its second-largest foreign life-insurance business, to MetLife (MET, Fortune 500) for $15.5 billion.
But after AIG is whittled down to its core, what will be left? AIG is expected to report a profit of 99 cents a share for the quarter, but that would be down sharply from a year ago due to the fact that the company is selling assets. Revenue is expected to drop 35% from a year ago.
Its general insurance and domestic life insurance businesses account for about half its revenue, so analysts will be looking closely at the performance of those divisions on Friday, said David Steuber, chair of the insurance recovery practice at Howrey LLP.
Investors will also be looking for strong performance from AIG's property-casualty insurance business, he said.
AIG previously said it was considering spinning off that division to raise more funds to pay back taxpayers, but in December, sources said AIG took that sale off the table.
The government will begin developing an exit strategy for selling its shares in AIG once the insurer has repaid its debt to the Federal Reserve Bank of New York, which is due in 2013.
The good news is, AIG's stock is up about 32% since the beginning of the year, and further gains could mean the government could reap some profits when it eventually decides to sell its 80% stake of preferred shares in the company.
Value investors including Bruce Berkowitz, manager of the Fairholme Fund have also bet that the stock will continue its ascent and have increased their stakes in the company.
But even the government has admitted that its ability to recoup its bailout funds will depend on a variety of factors beyond its and AIG's control. The performance of the overall insurance sector and the credit derivatives markets are likely to have a major effect on the government's exit strategy, the Government Accountability Office said in a report on Tuesday.