Dell earnings top estimates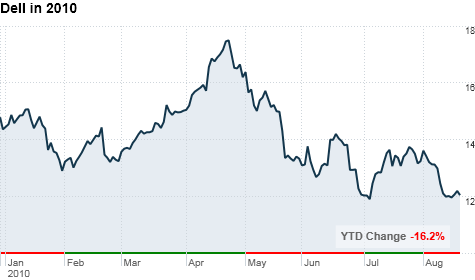 NEW YORK (CNNMoney.com) -- Just days after regulatory filings showed waning support for Dell CEO Michael Dell, the company reported earnings that topped analysts' estimates.
On Thursday, the nation's No. 2 personal computer maker reported net income of $545 million, or 28 cents per share, for the quarter ended July 30. That's up 17% from $472 million, or 24 cents per share, in the same period a year ago.
The results were fueled by strong demand from Dell's corporate clients as businesses around the world continue to update their outdated information technology. "Demand trends continue to be favorable," Mr. Dell told analysts in a conference call.
Looking ahead, the company said it expects sales growth in the low single digits during the third quarter. Dell also reaffirmed its previously stated 2010 sales forecast, saying it expects full year revenues to increase 14% and 19% versus last year.
Excluding certain accounting items, Dell reported earnings of $629 million, or 32 cents per share, in the quarter. Analysts polled by Thomson Financial, who typically exclude one-time items from their estimates, were looking for 30 cents.
Dell said total sales rose 22% in the quarter to $15.5 billion, versus a forecasted $15.2 billion gain.
Though analysts did not ask about shareholders' lack of confidence in a conference call with Dell executives, concern about the issue has hung over the company. On Tues., Aug. 17, regulatory documents revealed that voters controlling about 25% of the company's stock withheld support for the CEO. In addition, he received the fewest votes of any board member.
Mr. Dell has been under fire since last month, when he and the company settled long-standing fraud charges brought by the Securities and Exchange Commission. Under the settlement, Mr. Dell agreed to pay a $4 million fine, while the company forfeited $100 million.
The SEC accused Dell of not disclosing to its investors "large exclusivity payments" made to it by chipmaker Intel in exchange for not using chips made by Intel's rival, AMD.
Dell is facing separate charges from Web services company Advanced Internet Technologies. According to an Aug. 13 court filing, Dell allegedly refused to comply with court orders to reveal secret documents in a dispute over faulty computers.
Despite its legal woes, Dell has continued its aggressive acquisition strategy. On Monday, Dell announced plans to buy data-storage company 3PAR for $1.15 billion. It was the fifth acquisition Dell has made this year.
However, the company's gross profit margin fell to 16.8% in the second quarter from 18.2% a year ago.
The drop in gross margin, which is largely due to rising component prices, weighed on Dell's (DELL, Fortune 500) share price in after hours trading. The stock was down about 2% to $11.75 in extended trading.
"The margin compression is likely why the stock is off," said Shaw Wu, analyst at Kaufman Brothers, who had expected the company's margin to fall to 17.8%. Still, the company's performance was "pretty solid" in the quarter, he added.
Gross margins were also hurt by soft demand for Dell's consumer products. Dell's consumer division, the smallest part of its business, reported flat sales of $2.9 billion.
"For the consumer, we did see some demand weakening in later parts of the quarter," said Brian Gladden, Dell's chief financial officer, adding that he expects some improvement in this area during the second half of the year.
Meanwhile, sales to large businesses increased 38% to $4.5 billion in the quarter. Revenue from small and medium sized businesses rose 25% to $3.5 billion.
"We continue to look for strong commercial demand to keep driving the overall business," Gladden said. "That's overriding dynamic in the company."