Treasury yields inch higher on upbeat economic news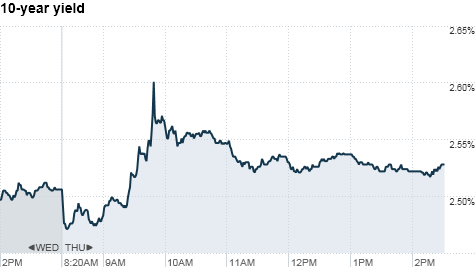 NEW YORK (CNNMoney.com) -- Treasury yields were mostly higher Thursday after better-than-expected news on economic growth, the job market and business activity reduced demand for the safety of U.S. government debt.
The yield on the benchmark 10-year note rose to 2.52% from 2.50% late Wednesday. The 10-year yield had spiked as high as 2.60% earlier in the session. The yield on the 30-year bond edged up to to 3.69%.
Meanwhile, the yields on the 5-year and the 2-year notes held steady at 1.28% and 0.44% respectively.
Investors initially fled Treasurys and pushed yields higher as reports showed that the economy grew at a slightly better pace during the second quarter than previously estimated, fewer American filed claims for unemployment insurance last week and business activity unexpectedly rose during the month.
Yields eased as the session went on, but remained lifted.
"We saw an initial sell-off after the stronger-than-expected economic data, but some investors have since come back to Treasurys as concerns about sovereign debt issues in Europe remain," said Bill Larkin, portfolio manager at Cabot Money Management.
Ireland's central bank announced a bank bailout that could reach about $46 billion. Ireland's budget deficit is on track to hit 10 times the European Union guidelines for eurozone members. Meanwhile, Moody's downgraded Spain's credit rating.
Investors have also been encouraged to hold on to Treasurys in anticipation that the Federal Reserve will buy more of the assets to keep rates low and stimulate the economy.