Fox channels go dark amid financial dispute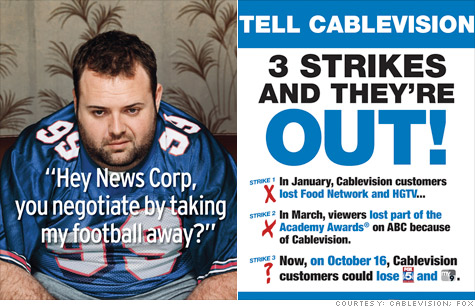 NEW YORK (CNN) -- News Corp. pulled the plug on Cablevision customers Saturday, blacking out more than 3 million households in the New York area over a programming fee dispute.
The blackout affects Fox 5 and My9, Charles Schueler, Cablevision's vice president of communications, said in a statement.
"Cablevision is calling on News Corp. to immediately put Fox 5 and My9 back on Cablevision and submit to binding arbitration under a neutral third party to reach a fair agreement," he said.
Fox Networks is entangled in a financial dispute over programming with Cablevision.
Cablevision (CVC, Fortune 500) says that Fox, which is owned by News Corp. (NWS, Fortune 500), is demanding too much money.
"In a difficult economy, it is unfair and wrong for News Corp. to demand a huge fee increase from Cablevision customers for Fox's Channel 5 and My9 -- and then threaten to pull the plug if they don't get want they want," Cablevision said in a statement.
But Fox says it deserves the money for quality programming.
"Our position in these negotiations is entirely reasonable -- we are simply asking for fair compensation for the value Fox5 and My9 programming offers," Fox said.
Cablevision says it is paying more than $70 million annually for Fox programming, and says Fox wants to bump it to $150 million.
Fox would not confirm or deny the details of the finances.
Cablevision has been running ads in an attempt to appeal to subscribers caught in the middle. One of the ads depicts a woman saying, "Hey News Corp., don't make me part of your latest drama."
Outside of this dispute, Fox is still caught up in its pay dispute with another network. Fox blocked 19 regional sports networks in a rate increase dispute with Dish Network at midnight on Sept. 30.
The Federal Communications Commission urged the companies to "engage in good faith negotiations" and resolve their differences.
"I am disappointed that Fox and Cablevision have not found a way to ensure that consumers could enjoy uninterrupted carriage of Fox broadcast stations on Cablevision systems," said Julius Genachowski, FCC chairman.
The companies should protect their audience's interests, he said.
-- CNN's Rick Martin contributed to this report.